Eat Offbeat celebrates World Refugee Day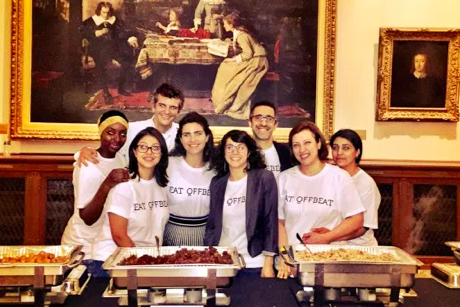 June 20th – World Refugee Day – was the busiest day we have had so far. We celebrated by catering two 200-person events for the UNHCR, one hosted by Ban Ki Moon at the United Nations and the other hosted by the US Ambassador to the United Nations at the New York Public Library with an appearance made by Mayor Di Blasio. It was such a pleasure to share our food with people united in our mission.
Our team was elated to see people's reactions to our dishes and to be able to partake in sharing the food, not just preparing it. In particular, our chefs beamed with pride as they were being recognized for their resilience in times of struggle and being honored representatives of their native culture. Most importantly, our whole team was together presenting ourself as a whole product. There is so much that goes on beyond food preparation. To really get to know Eat Offbeat, you have to meet the team behind it – both in the kitchen and out. No matter our part in the company, we are all passionate about our mission, about food, about sharing stories, and about learning from others. We were so honored and pleased with the positive feedback as many people came back for more food. But, most importantly there were many who stopped to speak with us, to learn more about our mission and our history. Through the way our team has come together, we have learned that the world is a small place. Everyone has a story to tell and no one is too far removed to care about such a story – as many who attended both events showed us. The overwhelming support and positive awareness this World Refugee Day has given us hope for a brighter, more inclusive future.