Party Like it's 1398 – Nowruz in New York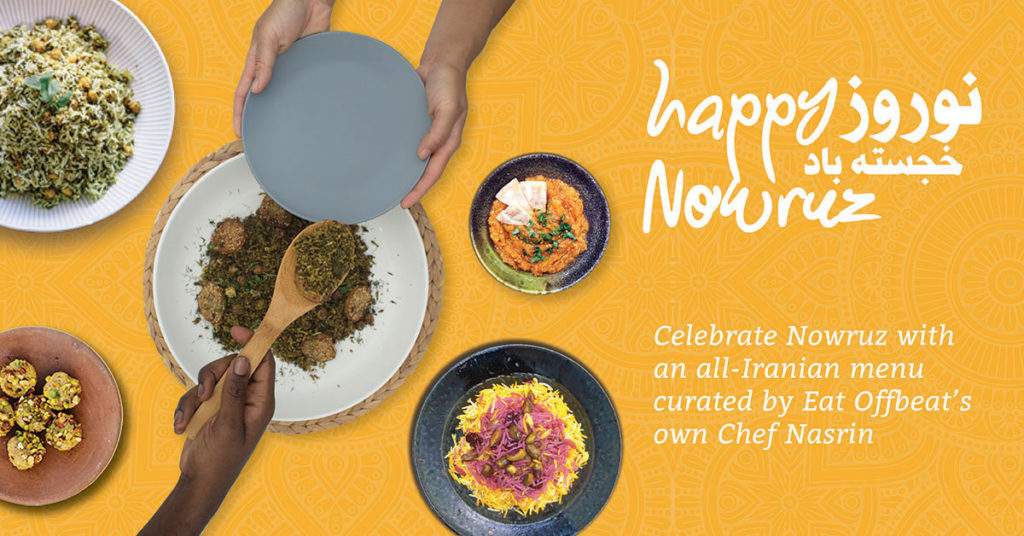 Written by Mohammad Modarres, TED Resident and Founder of Abe's Meats
The Sun will soon cross the celestial equator and set into motion a series of 3,000 year old rituals to welcome Nowruz, the first day of Spring. For Iranians and their neighbors with Zoroastrian roots it means the birth of a New Year.
As my parents do every Spring, they decorate a Haft Seen table spread of seven symbolic goods. Wisdom is exhibited by the fruits of the Lotus tree known as senjed, while health is signified by apples. A mirror sits at the center of the sofreh as our new goldfish dashes back and forth. The glitter on the painted eggs sparkle next to the growing sabzeh sprouts that represent our union with nature. If the pastel rich colors of Easter were siblings to the metaphors of the Passover Seder table, the Nowruz Haft Seen would be the youngest of the three—inheriting a cultured allure by default and reflecting its youth in a colorful, upbeat outfit with stories to match (full disclosure: I am the youngest sibling).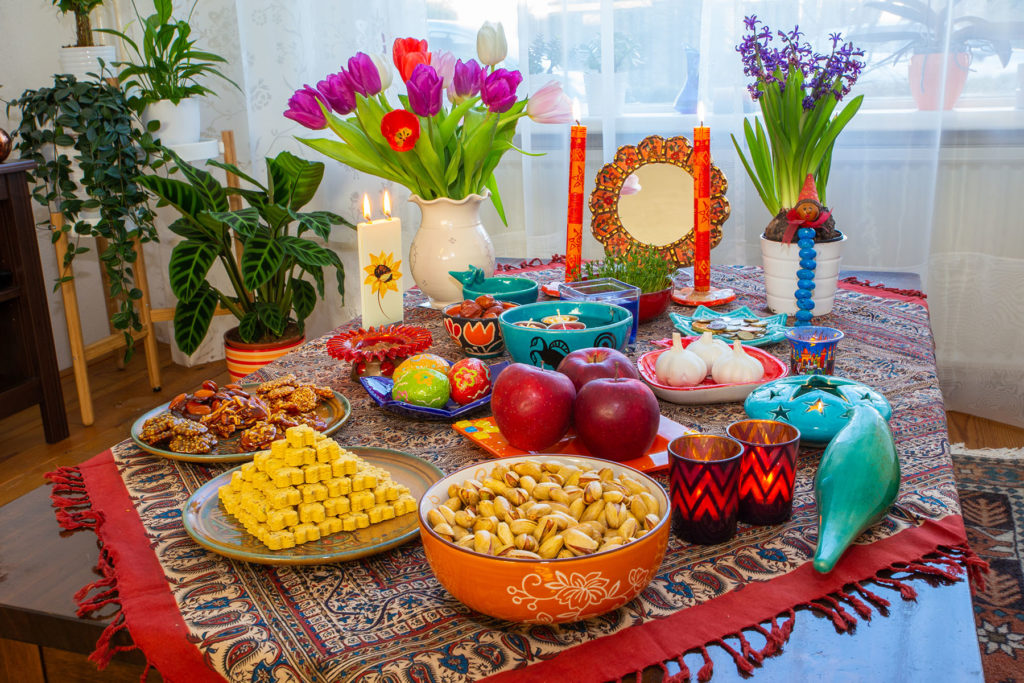 The Nowruz Haft-Seen Table
The eve of the last Wednesday before the New Year is lit. Literally. Scrappy bonfires are constructed on streets in every corner of the world where we choose to ignore fire safety laws. Before the Fyre Festival, there was the Nowruz Fire Festival. Friends hold hands as they jump over the flames, singing sorkhi-ye to az man, zardi-ye man az to. Give me your beautiful healthy energy, take away my yellow ills. We let the smoke shed away our year's troubles, as we welcome its warmth to light a brighter year. In small towns, children roam the night banging their spoons on pots in exchange for candy. Is this how trick-or-treat began?
The night leading up to the spring equinox is spent reading Hafez and teasingly interpreting his poetic verses to predict our fortunes. Lying on a gabbeh carpet munching on dried fruits, nuts, and shirini keshmeshi, we take turns asking questions about what the year will have in store for us. Is this the year Ali (finally) gets married? Should Narges quit her job? How will I do on my midterms? Ancient texts offer us 8-ball wisdom. My father reads aloud as my mother translates with care. In the background, my grandmother walks circles around us swinging esfand from side to side. The Evil Eye has no chance against BeBe's superstitions.
And when the New Year is embraced sometime in the middle of the night across the United States, the youngest children line up to be gifted envelopes of cash. Their parents dance alongside their teenagers to Googoosh classics as their elders wrap themselves around their grandchildren and flip through scrap books of Kodaks filled with thick mustaches and leather jackets from the 1970's. Stories of the 1979 revolution and the subsequent migration unfold. Did everyone's parents come to this country with $5 in their pockets? To pass on everything but the struggles they faced, parents never miss an opportunity to remind their children to study to ultimately become the next generation of doctors, lawyers, or engineers. "…Or all three!" the young ones joke.
The first and last days of any year are spent sitting across from each other, catching up over dishes painted in herbs, spices, and nuts. Much like the Haft Sin table, every ingredient is symbolic and meant to satisfy a part of your pallet. Kashke bademjan and Salad Shirazi to start before the smell of tart cherries fill the room. All eyes lock with the Persian Sour Cherry Rice. Crushed pistachios are sprinkled on in slow motion. Then the Chicken Fesenjan stew—prepared with pomegranate molasses and walnuts—makes its grand appearance. Our table cloth becomes its red carpet. Selfies are taken unapologetically and tagged with #YoureMyJoon. Finally, fields of sabzi rice compliment chunks of beautifully grilled mahi. Noosheh Jaan!
Plates shift and mountains of Basmati rice meet on your dish. Our obsession for the staple ingredient led to the creation of tahdig—a crispy rice fantasy born out of slicing potatoes and chunks of bread at the bottom of the pan as the rice cooks. Genius is an understatement for this gastronomic innovation. The history books forget to mention that as Sparta and Troy battled for a woman named Helen, the Persians were (and continue to be) busy creating their own family feuds for ownership of the last piece of tahdig in every pot. I will never forgive my cousin for stealing my tahdig off my plate nearly a decade ago. He is dead to me.
Nowruz is a multi-day affair (You should see our weddings!). Special dinners are prepared to welcome in friends. You shop for a new outfit, bleach the house spotless, showcase old glassware, and finally take off those plastic covers from the fancier furniture in the guest room. If the neighbors have been nice, they are invited to exchange their golden ticket for a seat at the table where they will relish recipes that have been perfected over thousands of years somewhere between the Silk Road and TehranAngeles (better known as Westwood, California). If our neighbors have not been anything short of pleasant…they will still be invited. Like death and taxes, Persian hospitality just works that way.
When you find yourself at a Nowruz dinner don't take it personally that no one listens to your requests. Ta'rof custom means your demands will only be met if you repeat them three times. This is why our mothers fill your plates with food even after you kindly deny another course. Be aware that refusing their home cooking will be met with cross-questioning and immense guilt. Why don't you want more food? I break my back for you! No diet is good for you! Eat! You have been warned.
This year I will be nowhere near my family so I chose to celebrate Nowruz with Chef Nasrin. Nasrin immigrated from Iran to the U.S. only a few years ago. Shortly after, she began cooking for Eat Offbeat, a New York-based catering company that employs immigrants. Founded by my friend and mentor Manal Kahi, this year they are preparing a Nowruz menu that includes many of my favorite dishes.
There is a sense of comradery in Nasrin's kitchen that all families have during the holidays. I call it a "loving chaos" that functions harmoniously as pandemonium exists at every corner of the kitchen. In the food industry, the best ones are created with a magical formula of love and respect for each other (two extra scoops of brown sugah never hurt nobody). I can only hope to build the same team at Abe's Meats.
My visit to see Nasrin was special because we taught the Iranian Nowruz traditions to the other chefs before we learned about Afghan and Kurdish ones from other members of the team. The holiday is celebrated beyond the borders of Iran in countries like Iraq, Uzbekistan, and even China. What should we include in the menu? The tart cherries! We spent the rest of the day cooking and eating amazing food, reading poetry, dancing to Baba Karam, and banging some pots until Manal gifted us with baklava. Before I left Nasrin handed me a poem.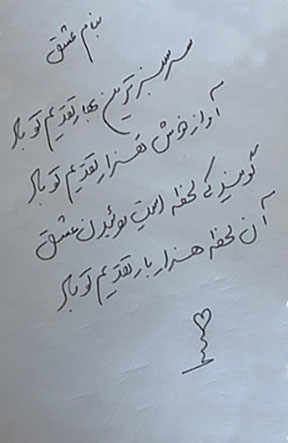 In the name of Love,
I wish you the greenest Spring,
I gift you a thousand beautiful songs,
It is said smelling love takes a moment,
I present you a thousand of those moments.
Nasrin is writing a poem with every Eat Offbeat delivery she makes this Nowruz. This Spring will mark the 1398th year of Nowruz. If you know someone who celebrates the holiday be sure to say: Sah'leh No Mo'barak! Happy New Year!
Author: Mohammad Modarres
Mohammad Modarres is a 2019 TED Resident and the founder of Abe's Meats, which produces the first Interfaith Meat that is Halal and Kosher at the same time. Learn more at AbesMeats.com.