THE CHEF BEHIND THE BOX: CHEF HAROLD VILLAROSA
Eat Offbeat introduces New Yorkers to new and off-the-beaten-path cuisines through curated meal boxes from around the world. Each month, we partner with an immigrant Guest Chef to feature the cuisine of their home country. This month, we are excited to feature Chef Harold Villarosa with a Filipino Special Mealbox!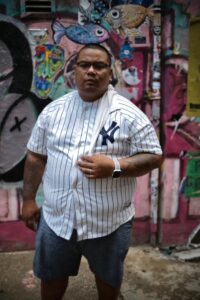 Filipino born, and South Bronx raised, Chef Harold Villarosa received his earliest culinary and agricultural education in the bukid (rice paddies) of Iloilo. Macondo and Rayuela restaurants provided him an early mentor, the late Chef Máximo Tejada.
Harold received an international invitation from Rene Redzepi to work at the #1 rated restaurant in the world, NOMA in Copenhagen. Staging at Michelin rated restaurants like Aquavit, Aureole, and Rouge Tomate, Harold's young career blossomed. Gleaning kitchen efficiency from places like Fedora in the West Village, and learning restaurant operations from opening with James Beard's recipe for best restaurant, Batard, Harold then worked for 3 Michelin starred Per Se and infused his community projects with the core values he learned in the lauded restaurant. His first Executive Chef role was at the original hidden gem at the end of Freeman's alley, Freeman's Restaurant.
Looking at his amazing resume, it's incredible to learn that Chef Villarosa didn't go to culinary school. When he climbed to the top, he launched the Insurgo Project, with the goal to mentor children from his home borough, and reshape how they understood food. He mentored over 2500 kids on how to run a restaurant and cook healthy meals for themselves. He also taught them skills that could potentially help them in their future careers. This was his way of giving back to the community.
Pursuing his own passion projects chef Harold founded Unkle Harold, coined the term Filipino soul food he hopes to educate the masses on the food of his motherland. Chef Harold is also an advocate for speaking up on injustices within the industry, stating that it's crucial. He is currently working on new food shows that address it, while writing articles that express it. He is hopeful that change can happen in his lifetime.
It has been such a pleasure for our team at Eat Offbeat to work with Chef Harold. On top of showing us new techniques and teaching us about the intricacies of Filipino cuisine, Chef Harold instantly became part of our family. His daily routine during his menu development and training time together with our chefs included a daily Filipino playlist, introductions to Filipino artists, and a lot of singing!